Thrive As You Lead |
The Summer Spirit

™

Program

Learning Pod 1: EQ + IQ = Thrive As You Lead
Learning Pod 2: Capitalize on Your Strengths = Thrive As You Lead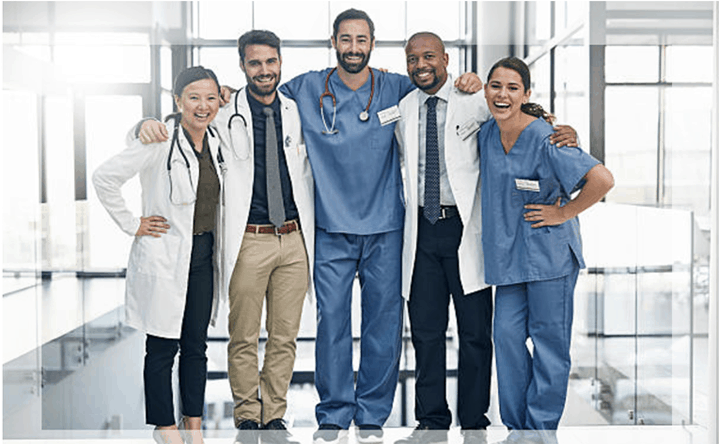 These programs were customized for you because I couldn't find them when I needed them most:
When I was trying to be a more effective influencer….
When I was trying to achieve new goals that didn't have an outlined pathway…
When I was trying to determine what was really, really important to me…
They can exceed your expectations and I will do all I can to ensure that they do.
A Decision That Could Change Your Career and Put It on An Entirely New Trajectory
The programs are centered around scientifically-validated assessments where you will apply learning and insights about yourself to achieve your goals.
Instead of a one-size fits all approach, the programs are physician-centric to help the exceptional leader in you realize your vision for successful leadership.
Each learning pod includes:
Precourse tips and tools

Receive your "Thrive As You Lead Wonder Box" with interactive
learning tools

Access to the private MPL Summer Spirit Facebook group Community

Connect with other physician leaders in your Learning Pod
Ask questions and get feedback from me and your peers
Support when you need it and from other physicians who share
in your experience

Scientifically validated assessment and comprehensive report
Interactive Group Coaching Session to learn key competencies and
strengths essential to thriving as a physician leader (2 hours)
1:1 Coaching Session to go deeper into your report, your leadership
style, and your goals (1 hour)
Post-course materials and reflection

Readings and reflection exercises to consolidate your learnings
**Bonus Summer Spirit Package Offer**
1:1 follow-up Coaching Session to discuss insights, behavior changes, and tips for continued success (30 min)
Check Out Terri's Summer Spirit Package Overview

Spirit Program (regularly priced): $850
Summer Spirit Program 1 or 2 price: $495
Limited-Time Value Pricing – This Offer Exclusively: Take both programs: $900
AVAILABILITY IS LIMITED – SIGN UP NOW
Schedule At A Glance (July/August 2020) and Overview PDF
Click the calendar and program images below to see and/or download detailed program schedules, information, and resources. Program participants will have access to data-rich calendars designed to be merged with their own online or digital calendar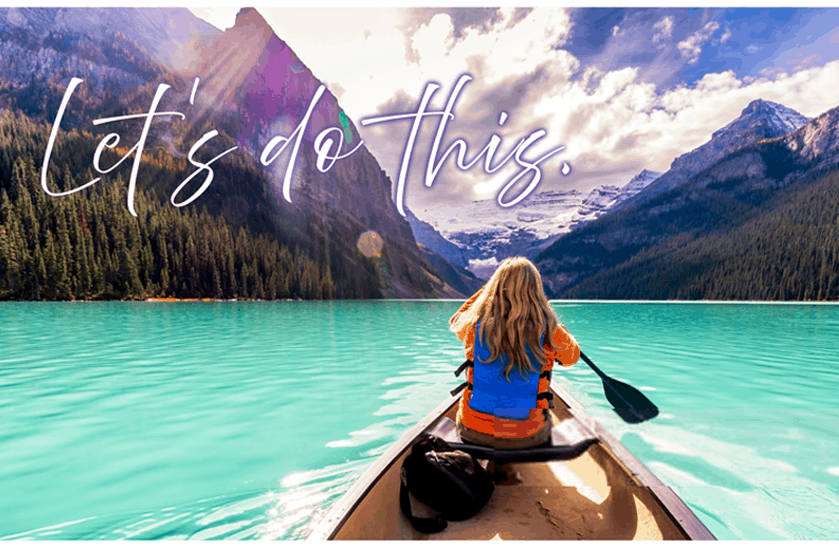 Every one of us is on a personal development journey.
Exploring who we are as individuals, investing in our growth and expansion can summon our capabilities to thrive as authentic and empowered individuals.
While the quality and comprehensive value in these programs is unprecendented, the question is: how commited are you to evolving and advancing your personal power?
Let's do this and add the most rewarding chapter yet to your success story!

Getting Down to FAQs
"I"m a physician leader who wants greater career satisfaction. I have some questions."
When do the learning pods start?
Learning Pod #1 – EQ + IQ = Thrive As You Lead starts Monday, July 13, 2020.
Learning Pod #2 – Capitalize on Your Strengths = Thrive As You Lead starts Monday, July 27, 2020.
What will I gain by participating?
Through the assessments, you will gain insight into your current strengths, growing edges, and overall personal and leadership style. The group coaching session provides a relaxed and comfortable environment for goal-setting while the 1:1 coaching sessions are an exploration and reflection of your journey including "unpacking" the uniqueness of you. At the conclusion of the Spirit Package, you will have a customized plan with specific areas you identified for change to create the next chapter of your success story.
What is the difference between Learning Pod #1 and Learning Pod #2?
Learning pod #1 includes the Social + Emotional Intelligence (SEIP®) to help you learn your personal competency strengths as well as how to further develop and implement your strengths. In addition, you will learn how to adapt and manage your responses to particular situations.
Learning pod #2 includes the Riso-Hudson Enneagram Type Indicator (RHETI® version 2.5) which leverages your dominant personality as a leadership tool. It helps you to see core motivations, fears, desires, strengths, blind spots, and stressors that most often trip us up. You will learn how you fluctuate between the healthy, average, and unhealthy, traits that make up your personality type. In addition, you will understand how you see the world and with that knowledge, begin the path toward transformation.
AVAILABILITY IS LIMITED – SIGN UP NOW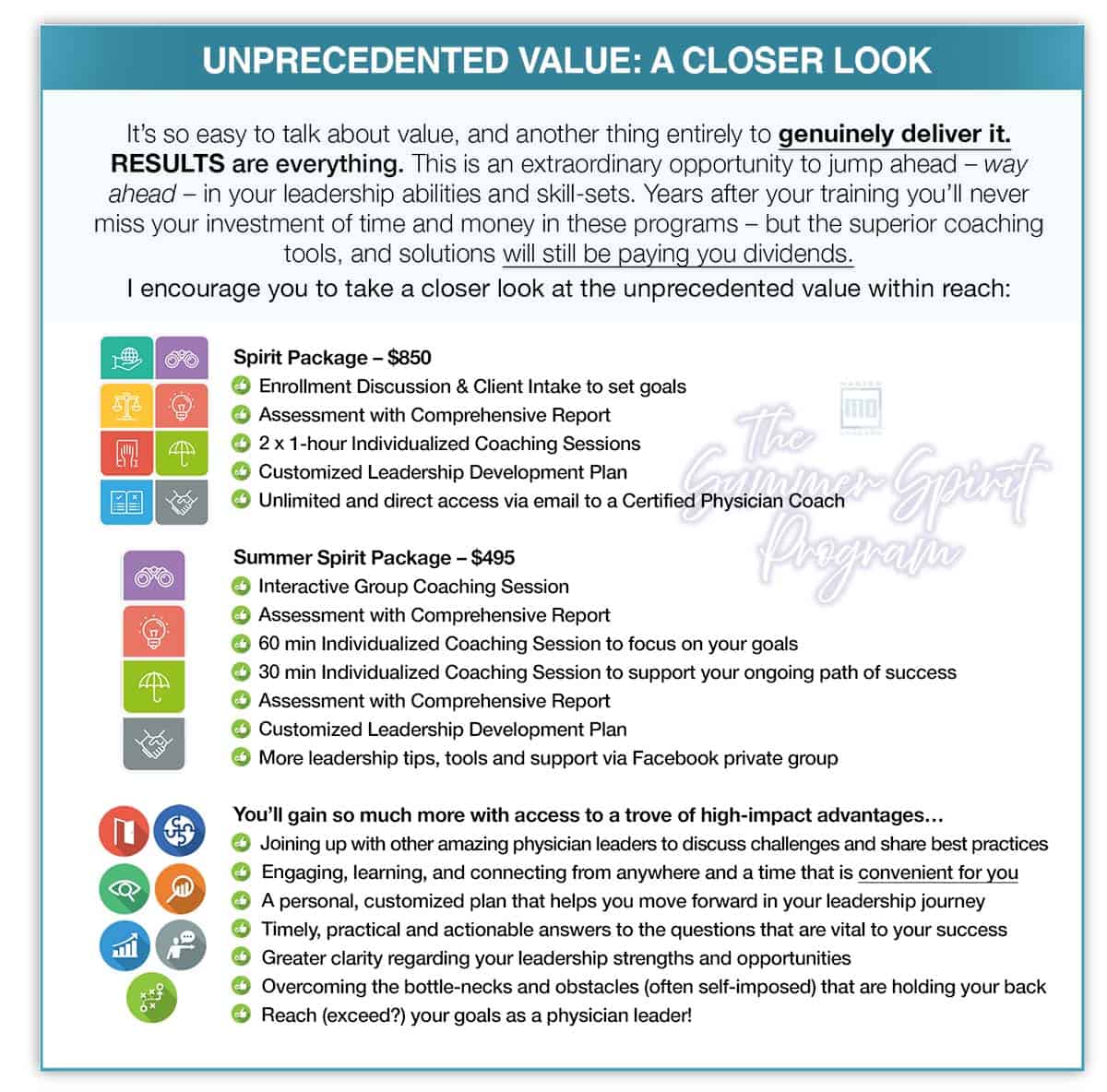 Can I register for both learning pods?
Of course you can! The assessments included in the
EQ+IQ
and the
Capitalize Your Strengths
Learning Pods are different, providing you with a unique portrait. Through this exclusive offer, the cost to participate in both pods is $900.
Will there be another Summer Spirit Package available in 2020?
It's possible, but there might not be time to offer another package like this before the summer ends. Come September, a different, customized package will be available.
How long do I have to schedule my complimentary 30-minute coaching session?
The window to complete the complimentary coaching session closes on Monday, August 31, 2020.
I don't have a leadership title. Can I still register?
Y E S ! I believe all physicians are leaders. A physician leader is responsible for delivering exceptional care and improving processes and systems that help people be healthy, so that they can achieve their best. If you believe it too, then you are a physician leader.
Can I earn CME credits?
Participation in activities (e.g., coaching) which serve to increase your professional performance and relationships may be eligible for Category 2 credits CME.
Still have a question?
Send me a note at [email protected] and I'll get back to you right away.